The "BL" stands for "BETTER LIVING". The BL label (on the below) is to be displayed on all housing components that have been recognized as superior in quality and performance, certified through CBL. The BL label is a symbol of safety and quality, and provides consumers with additional peace of mind.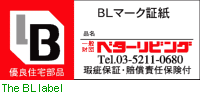 BL components with additional features that are designed in particular to meet societal demands regarding energy conservation, assistance for the elderly etc., are certified as "BL-bs components."
All BL components displaying the BL label are covered by a repair warranty which is free of charge from two to ten year period depending on the component. In the event of an accident, BL insurance will be provided, covering the products' warranty and indemnity.
ID used in the tag of the BL label for fire alarms.
An application design framework called uID architecture, devised by YRP Ubiquitous Networking Laboratory and promoted by uID center, has been adopted, and numeric ID,called 'ucode' has been put into the tag.

Currently, 187 million of these tags are in use. (March, 2012).